What Does It Take To Get Started With Invisalign Treatment?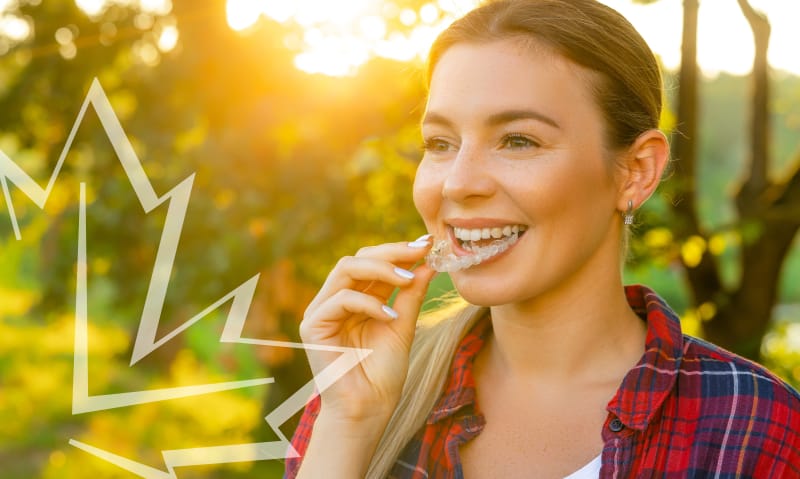 What to Expect When Starting Invisalign
Deciding to straighten your smile is an exciting step, especially if you have your heart set on Invisalign. Invisalign is the most popular clear aligner orthodontic care system and is typically what most adult patients request due to its subtle appearance. But that's only one of many reasons Invisalign is great!
We love Invisalign because it makes our patients' daily lives much easier. As an Invisalign patient, you'll be able to remove your aligners, which means caring for your teeth is a breeze, and you won't need to change your diet. Best of all, most of our patients who use Invisalign complete their treatment plan in less time than those with braces. All you need to do is wear your clear aligners for 20 to 22 hours a day and come see us for routine checkups to monitor your progress.
Eager to get started on your own Invisalign journey? Here's what you can expect as a patient new to this clear aligner system.
Visit 1: Your Initial Consultation With Dr. Enjati
Invisalign can effectively treat many orthodontic problems or malocclusions, but there are still a few restrictions for candidacy. First, you will  see Dr. Enjati for an Invisalign consultation, so he can determine if you're a candidate for treatment and give you more information on what you can expect going forward.
During your consultation, Dr. Enjati may take some X-rays and digital scans of your smile to determine what problems need to be addressed. He'll also visually examine your smile to ensure you have optimal oral health before beginning orthodontic treatment. Although it's possible to have fillings and other dental care services done during Invisalign treatment, it's always best to take care of any active issues beforehand.
If you are a candidate for Invisalign, you and Dr. Enjati will then discuss the treatment process and go over a few other details, like your insurance coverage or an estimate for out-of-pocket costs. You'll typically book a second appointment to have digital impressions taken of your teeth.
Visit 2: Digital Impressions and Designing Your Aligners
Your second visit is all about taking in-depth images and measurements of your smile. Dr. Enjati knows how messy and uncomfortable traditional gooey impressions and bitewings can be, so all of ours are done digitally.
We use two types of technology: 3D cone beam digital imaging and the Primescan digital scanner. These tools give the Invisalign design lab what they need to create a series of aligners for your smile. Once your images are complete, Dr. Enjati sends them off to a lab.
The labs take a few weeks to create your series of aligners. The average Invisalign treatment plan includes 20 to 30 pairs of clear aligner trays. Mild cases may have fewer trays, while more complicated cases can have 40 or more. Invisalign trays are worn for about two weeks before graduating to the next in the series.
Visit 3: Receiving Your Invisalign Set and Placing Your First Aligner
It typically takes about four weeks for your impressions to be sent to the lab, designed, and shipped back to our dental studio. Once we have them, you'll come back for your very first fitting appointment.
Dr. Enjati will present your new aligners, go over how they work, and finally—the most exciting step—pop your first set into place. Since this is an entirely new experience for you, your mouth will probably feel a little funny at first. The aligners may feel tight on your teeth, and you might speak with a bit of a lisp with certain words at first. Before you know it, though, you'll be used to wearing them, and you won't even notice when you're wearing them.
Before your visit is over, Dr. Enjati may have you take off and replace your aligners to ensure you know what to do. He'll also review important aftercare information and reminders like wearing your aligners for 20-22 hours a day, removing them before meals, and practicing great oral hygiene.
Note that your mouth may feel sore and tender for a few days after each new aligner is placed due to the force the trays place on your teeth. However, if you feel really uncomfortable or suspect something is wrong, give us a call so we can help.
Your Invisalign Dentist in Friendship Heights, DC
Invisalign is one of many services Dr. Enjati and his team offer to the Washington, DC, community. We provide comprehensive dental care, including preventive, restorative, and cosmetic services, all with expert knowledge and a gentle touch.
If you've been dreaming of a straighter smile and want to see if you're a candidate for Invisalign, book your consultation today with Dr. Enjati via phone or online request.